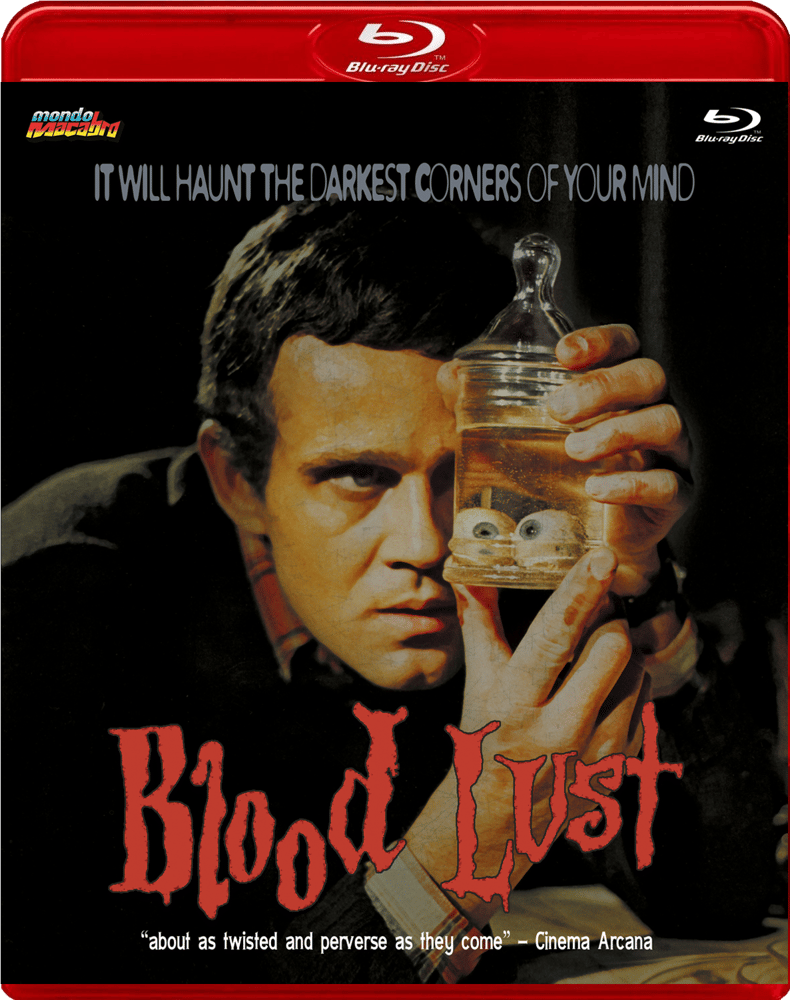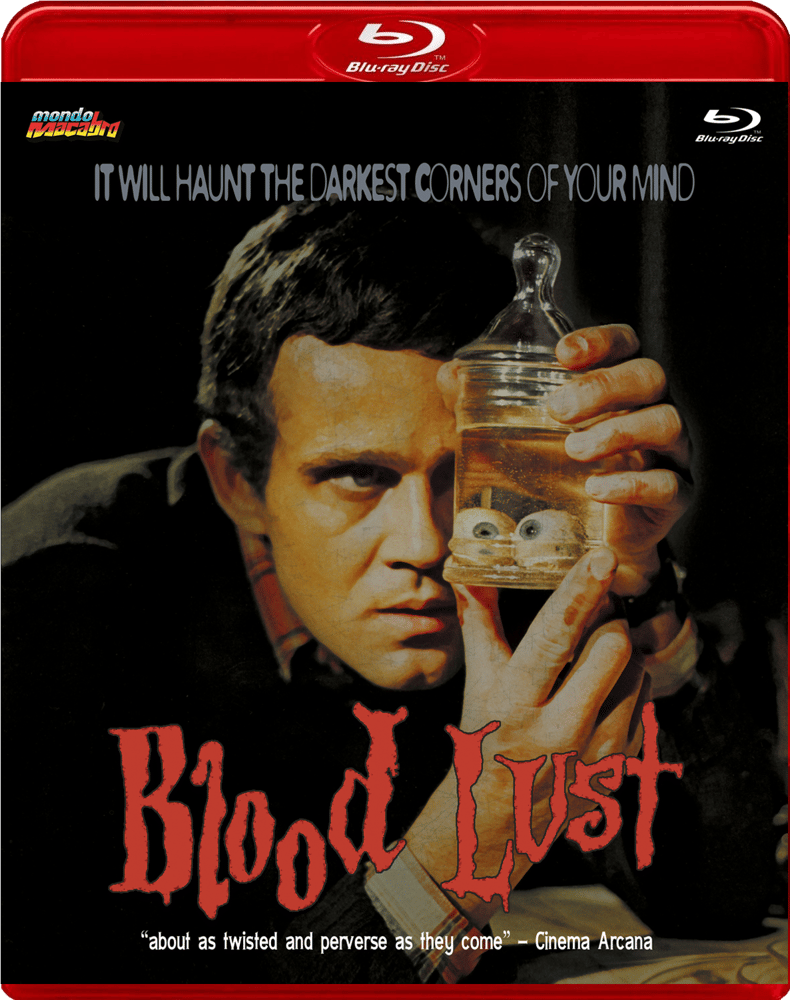 BLOOD LUST - Limited Red Case Edition
$25.00 / Sold Out
SOLD OUT! Thank you! A standard retail edition will be announced in the coming weeks.
THIS RELEASE IS DELAYED! Due to circumstances beyond our control we won't be able to start shipping this title until sometime in early to mid October. Thanks for your patience.
Limited to 666 numbered copies.
Haunted by a childhood trauma, a deaf mute accountant develops a fixation with blood spilling across his skin. Brief flirtations with ketchup and red ink seem to satisfy him at first but he soon develops a taste for the real thing. Though he nurses a weird fascination for a neighborhood girl who passes the time by dancing on the rooftop, he remains socially withdrawn with his co-workers and can't even find comfort in the arms of a hooker. One night he breaks into the property of the local undertaker and ravages the prettiest female corpse. Now addicted, he habitually raids the tombs of the dead and drinks blood from their throats via a spiked, double pronged glass straw. Authorities and citizens are incensed by these crimes and the search is on for this modern day vampire.
Blood Lust is one of the darkest and most affecting horror movies to come out of 1970s Europe. The film plays like a kind of grown up fairy tale, albeit one that includes bloodsucking, eyeball evisceration and voyeuristic lesbian sex scenes among a host of other activities. Cut and banned in many countries, this is the full length version, remastered in 2k for its world Blu-ray debut.
Limited edition contents include:
An exclusive cover, a 12 page booklet written by Michael Gingold with lots of fascinating information about the film and how it came to be made, and 14 full color, postcard sized reproductions of lobby cards, posters and promo materials.
Disc content:
Region free
HD transfer from the original negative
English and German language tracks, with optional English subtitles
Interview with director's son and assistant director Marijan David Vajda
Interview with star Birgit Zamulo
**PLEASE NOTE that any item purchased along with this pre-order will not ship until all items are available. SORRY WE CANNOT COMBINE PRE-ORDERS WITH ANOTHER ORDER. **
***PLEASE NOTE: We can no longer process credit/debit orders through Stripe. However, you can still pay with a card through Paypal EVEN IF YOU DON'T HAVE A PAYPAL ACCOUNT. Just choose "Pay with a debit or credit card, or PayPal Credit" once taken to the Paypal checkout and you will be able to use your card without signing up for Paypal itself.***