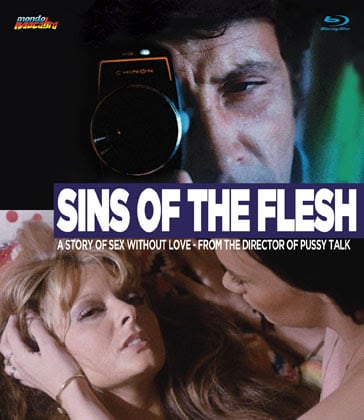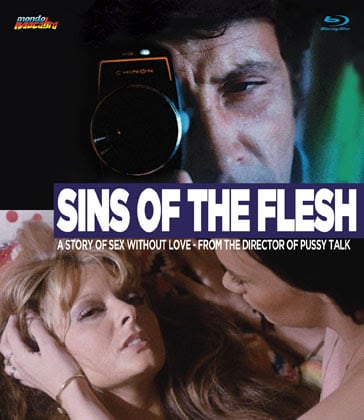 SINS OF THE FLESH - standard edition
$20.00
Benoît Landrieux, the idle and depraved son of a rich industrialist has two chance encounters on the same day that will change his life forever: Jean-Pierre, a young tearaway who is trying to steal his car, and Isabelle, 20 years old, whom he saves from being raped by her stepfather.
Benoît is a coward and a voyeur, who gets his kicks from watching other couples make out. He cajoles his two new companions to attempt what he has never dared do: rob the safe in his father's factory, seduce his stepmother to blackmail her for money and finally go so far as committing murder. Thus begins a wild ride that takes them to the very edge of madness.
Director Claude Mulot made this film under the pseudonym of Frederic Lansac - the name of a character from his previous horror hit The Blood Rose. Sins of the Flesh (French title: Les Charnelles) marks the start of his transition from softcore films to full on hard core which was confirmed by his next release, Pussy Talk - one of the most controversial French films of all time. But Sins of the Flesh also shows Mulot's background in horror cinema. He presents Benoît as a cunning and complex psychopath, a handsome young man who smiles and wears expensive clothing, while inside lurks a monster.
The film is a compelling and controversial journey into the dark side of the human mind with some riveting sequences that showcase Mulot as one of the most daring and individual French film makers of his age.
The film also features Jess Franco favorite Anne Libert (Erotic Rites of Frankenstein etc) and comes in a brand new 4k restoration with a host of original extra features.
DISC FEATURES: 
Region free
Brand new 4k transfers from film negative, digitally restored;
interview with Anne Libert;
interview with Gerard Kikoine;
interview with distributor Francis Mischkind;
interview with assistant director Didier Philippe-Gerard;
original trailer;
alternative title sequence;
optional newly created English subtitles