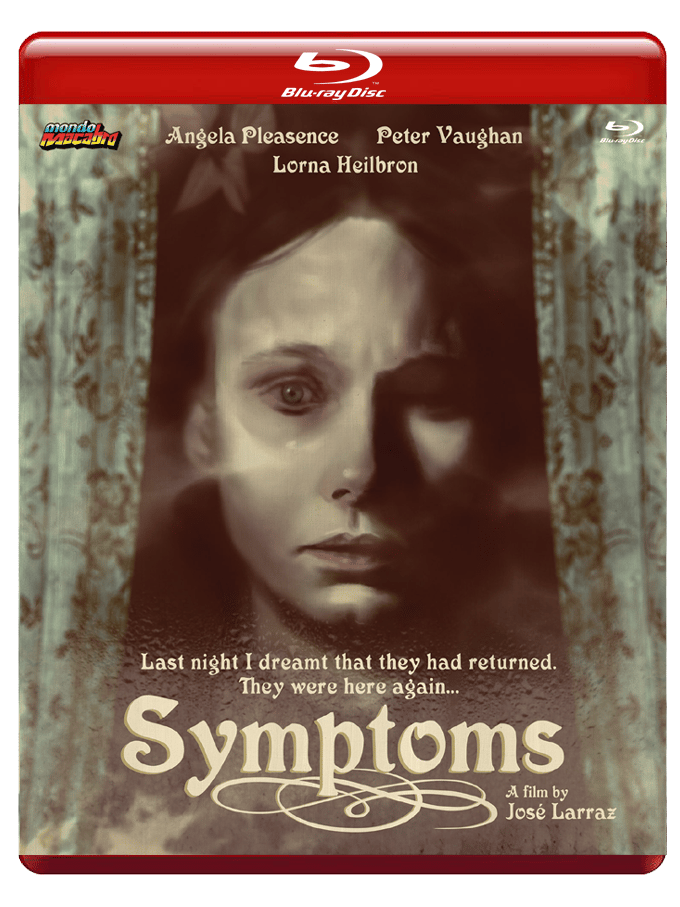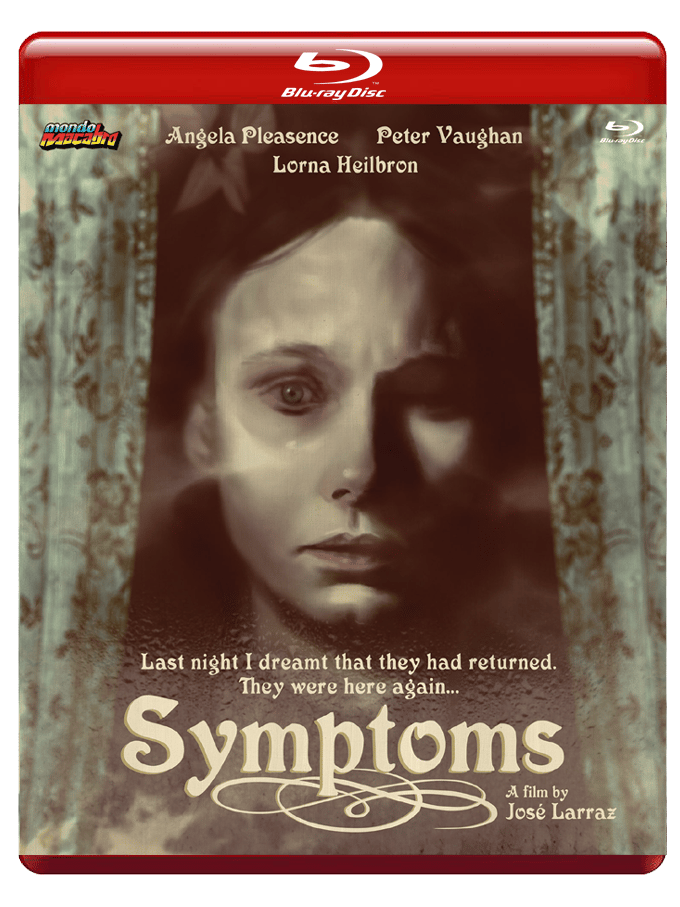 SYMPTOMS - Two-Disc Limited Edition
$25.00 / Sold Out
***PLEASE NOTE: We can no longer process credit/debit orders through Stripe. However, you can still pay with a card through Paypal EVEN IF YOU DON'T HAVE A PAYPAL ACCOUNT. Just choose "Pay with a debit or credit card, or PayPal Credit" once taken to the Paypal checkout and you will be able to use your card without signing up for Paypal itself.***
RED BOX LIMITED EDITION! 1000 numbered copies!
Due to an unforseen error with our supplier, the red cases for this edition are unfortunately emblazoned with the 'playstation' logo. These are the same cases we have used in the past, with this one difference. Sadly, there are no cases on hand in bulk that do not have this error. We apologize, and hope that this does not dissuade you from purchasing what we feel is one of the strongest Blu-ray packages of 2016.

Red Box Limited Edition Exclusive Extras:
*Larraz on Larraz! Bonus DVD featuring a two-hour long archival interview with Jose Ramon Larraz! - Conducted in the late 90s and used as the basis for the Larraz episode of UK TV show Eurotika! (included as an extra on the main disc), the majority of this career-spanning interview has never been seen before.


*Exclusive booklet featuring a brand new essay from Writer/Critic Samm Deighan! – Samm is the editor of the Satanic Pandemonium blog, co-host of the Daughters of Darkness podcast, and the assistant web editor for excellent horror magazine Diabolique. She has contributed to Fangoria, Paracinema, and the book Satanic Panic: Pop-Cultural Paranoia in the 1980s, and is currently writing a book about WWII and cult cinema.
A dark and haunting study in psychological horror, SYMPTOMS takes us deep into the twisted mind of a damaged girl.
Helen, who lives alone, invites her new friend Anne to stay with her in a lonely house, lost in the English countryside. The house, the woods that surround it and the figures fleetingly glimpsed through its windows, all seem imbued with a deep sense of mystery. Helen appears to be hiding a secret and the more Anne tries to uncover it, the deeper she is pulled into its dark heart.
SYMPTOMS was the official UK entry to the Cannes film festival in 1974 and was highly praised at the time. Subsequently the film sank into obscurity and was recently listed as one of the UK's top 75 "lost films". This release, taken from the original negative and fully restored, brings this quiet masterpiece back into view, where it can now be appreciated as one of the most under rated films of the 1970s.
Extras:
* The 2011 documentary on Jose Larraz, ON VAMPYRES AND OTHER SYMPTOMS, a film by Celia Novis
* FROM BARCELONA TO TUNBRIDGE WELLS, a 1999 TV documentary on Larraz, part of the EUROTIKA! series
* New interviews with stars Angela Pleasence and Lorna Heilbron and editor Brian Smedley-Aston
* Newly commissioned cover art by Gilles Vranckx