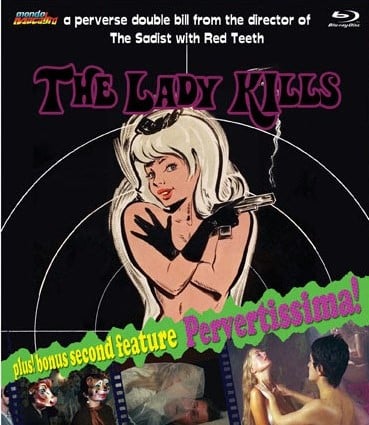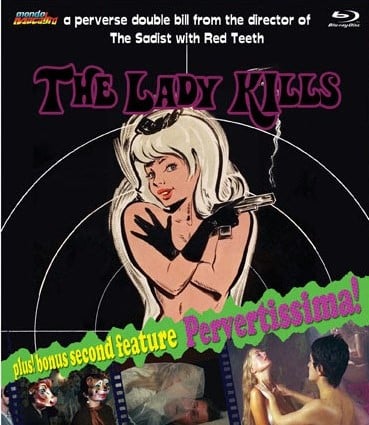 THE LADY KILLS/PERVERTISSIMA - retail edition
$20.00
IN STOCK AND SHIPPING NOW!
**PLEASE NOTE that any item purchased along with this pre-order will not ship until all items are available. SORRY WE CANNOT COMBINE PRE-ORDERS WITH ANOTHER ORDER. **
THE LADY KILLS - Belgium/France, 1971, 82 minutes, 1.66:1, French language with optional English subtitles
PERVERTISSIMA - Belgium/France, 1972, 81 minutes, 1.66:1, French language with optional English subtitles
BD50, 1080p, 24fps, DTS mono audio, Region Free
Remastered, restored and available for the first time on home video anywhere in the world, this new "perverse double bill" from maverick film maker Jean Louis Van Belle contains both the 1972 release Pervertissima and the 1971 production The Lady Kills.
The Lady Kills tells the story of Françoise Frémond, who travels across Europe on an apparently random killing spree, bumping off a series of increasingly odious men. From Swinging London to the eternal city of Rome, she leaves a trail of dead bodies and the question: why? A mystery film as only Jean Louis Van Belle could make it, The Lady Kills is a blast from start to finish with an amazing soundtrack of gloriously groovy psych-rock.
Pervertissima is a bizarre – and possible unique - combination of mondo movie and mad scientist flick. A beautiful woman is hired by a scandal sheet editor to research and write a report on "Love in Paris". Her quest takes her from a lesbian sauna to a secretive club of masked swingers, via stints as a street walker in a seedy Paris back alley and a strip-tease artist in an upmarket cabaret. Her final outing leads to the clinic of the dangerous Dr Vilard, who aims to create sex robots out of human flesh, and mate them to create a race of superhumans to take over the world!
DISC FEATURES
Brand new 2K transfers from the original negatives, digitally restored
"Who is Jean Louis Van Belle?" documentary featurette (30 minutes)
Introductions to each film by writer and Belgian film expert Christophe Bier (20 minutes)
Umbrella commercial directed by Van Belle